Remember when 2018 just got here, and we were all complaining about how slooooow January was taking to move forward? And then how fast the rest of the year flew by?
Me too.
Though this year had its up and downs, a few accomplishments were achieved by both Amber and myself- the biggest being the both of us obtaining our bachelors. While we both had our share of successes within the year, there were a few individuals that gained a lot of attention from the public eye, as well as set some more milestones of their own. Here are 5 individuals handpicked by the both of us who dominated the year 2018:
1. Cardi B
While stripper- turned social media star- turned rapper started gaining attention from the media when serving as a cast member of reality tv show Love and Hip Hop: New York in 2015, Cardi had one of the best years ever. With the release of her first album Invasion of Privacy, to the birth of her first child Kulture with Migos member Offset, to 7 Grammy nominations, her success led to people coining the term "Cardi B Year" earlier this year. This term was created to define a year where one experiences many successes. This year, Cardi also earned the title of the first woman headliner for this years Rolling Loud Musical Festival, the third woman to ever be nominated for the Grammys "Album of the Year" award (following Lauryn Hill and Missy Elliot), as well as her hit single Bodak Yellow leading her to become the first woman solo artist to top Billboard's Hot 100 Chart in 19 years. Cardi has also been featured in songs with many different artists, as well as collaborated with Tom Ford and Fashion Nova. Not bad for a regular degular shmegular girl from the Bronx, huh?
2. Meek Mill
Though Meek Mill has been in the limelight for over 6 years, this year was also very important for rapper Meek Mill as well. Due to an arrest involving gun possession and drug charges in 2008, Meek Mill (born Robert Williams) was given 5 years probation, which was first violated in 2012. However, in 2017 he was also arrested due to an incident at an airport, receiving a summons to appear in court, which eventually led to him being sentenced to 2-4 years in prison for violation of his parole. While in jail, an uproar came from the public in regards to Meek Mills case, claiming his case was mishandled, as well as towards the judge who handled all of his cases, claiming she may have been "out to get him". His case was eventually appealed in Supreme Court, and he became one of 2018's biggest advocates for prison reform. Meek Mill also appeared in a video with the New York Times advocating for said cause, as well as making an appearance on CNN. In addition, Meek Mill also ended the year with the release of his 4th studio album Championships in late November. Meek Mill deserves all the applause going forward.
3. Ariana Grande
Ariana Grande has been in the limelight for a while now, as she first started as one of the main characters in Nickelodeon's Victorious in 2009. Four years later, she released her first studio album Yours Truly. In August of 2018, Grande released her fourth studio album Sweetener, which debuted at #1 in the Billboard Hot 100. Grande's personal life was also in the limelight, as her and the late rapper Mac Miller dated from 2016 to May of 2018. Mac Miller sadly passed away this past September, which caused Grande to face a good amount to scrutiny. People blamed Grande for his death, though this was not the case. In addition, Grande began dating comedian Pete Davidson, and eventually getting engaged to him, though they broke up in October. Grande released single Thank You, Next in November, which shared her appreciation and paid homage to her past lovers, and took the time to thank them. Thank You, Next broke the record for the most watched YouTube video in 24 hours. This year Grande was very big on spreading happiness as well as advocating for mental health awareness. She won the Billboard Woman of the Year Award at their annual Woman In Music ceremony. In her acceptance speech, she stated that this was "one of the best years of her career, but one of the worst years of her life". I must say myself, 2018 definitely solidified my fandom for Ariana Grande. In the words of Kris Jenner- "thank you, next. bitch!"
4. Rihanna
It's official — that Rihanna reign just won't let up. Since launching the overnight successes that are cosmetic line, Fenty Beauty and lingerie line Savage X Fenty, it's clear that Rihanna had a damn good 2018. Even with her beloved "Rihanna Navy" hounding her about rumored new music coming in the new year, she remains unbothered. And for good reason, too. Though despite these new business ventures, the 30-year-old Bajan songstress remained relatively under the radar. With two internationally successful multi-million dollar businesses, there's nothing wrong with securing that bag in other ways! One of the highlights of Rih's year? Closing out NYFW with the Savage X Fenty fashion show back in September. The beautifully vibrant colors matched with models of all shapes and sizes proved that inclusiveness wasn't just a 'trendy' thing to incorporate, but reflected the changing standards of society. We STAN a socially conscious queen!
5. Drake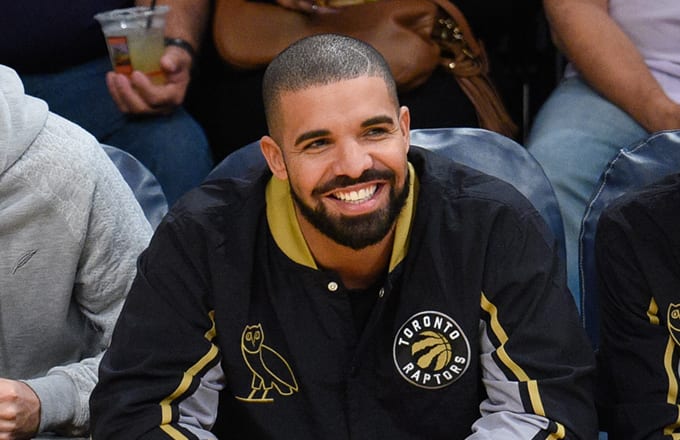 It's safe to say that Drake is that rapper everyone loves to hate, and 2018 was no exception for the Toronto native. From rap beefs to the revelation of his one-year-old son, Adonis, Drake had quite the crazy year. With behind the scenes back and forths stemming from working with Kanye, which led to the infamous "Infrared" diss off of Pusha T's Daytona. This in turn led to his "Duppy Freestyle" response, which was soon followed by Pusha's "The Story of Adidon". The 32-year-old allegedly planned on introducing his son through a clothing line rollout and with the release of his fifth album, Scorpion. The beef however caused a last minute change around, resulting in a push back for Scorpion's release date. Though many wondered if Drake would retaliate, the beef was ended by Rap-A-Lot Records CEO and Hip-Hop veteran, J. Prince. Prince instructed Drake not to respond, and was also warned via an anonymous text not to bring up Pusha's name in any interviews. On the upside, Drake gave us all the nostalgic feels with the "I'm Upset" music video, reuniting with many of his former Degrassi co-stars. And I can't forget the summer bops that were "Nice For What" and "In My Feelings", the latter which gave a major co-sign to Miami rap duo, City Girls and introduced Queens-native comedian, Shiggy. Take all of this and add in the "Aubrey & The Three Amigos" tour with Atlanta's own Migos, Drake didn't have too shabby of a year, if you ask me.